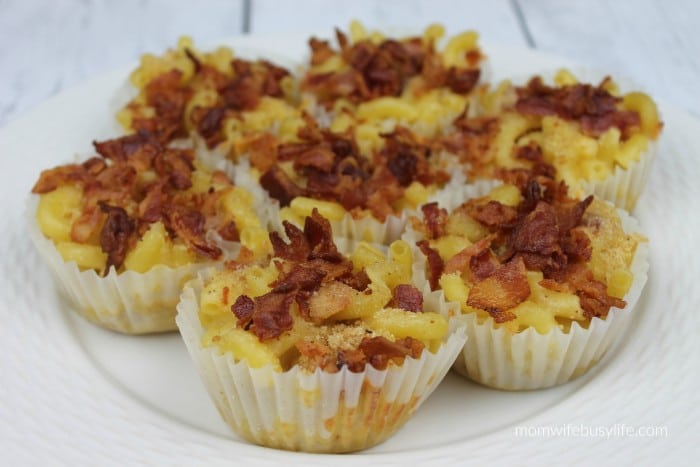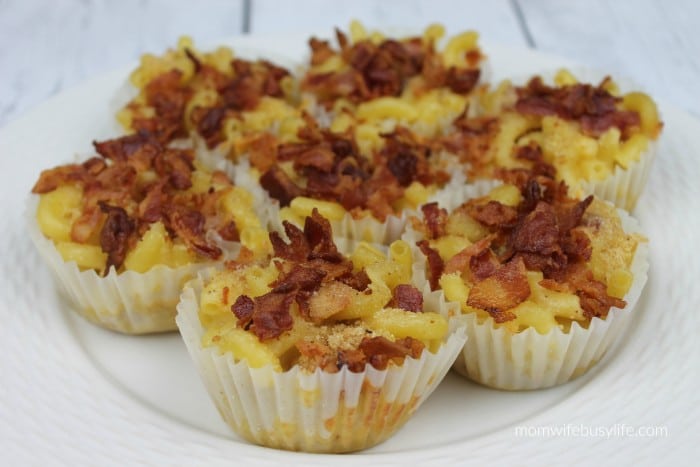 Menu planning is one area that I've struggled with as a mom for a LONG time. I'm getting better about planning out my weekly dinner menu in advance (thanks to Pinterest!) The number one reason why I felt I could never get a decent dinner on the table for my family each day was all due to poor planning. If I don't plan it, it's not going to get done and then my family is stuck eating pre-packaged frozen foods or peanut butter sandwiches.
Now that I'm able to plan out our meals, we are able to get all of the ingredients we need at the grocery store on the weekends. Then, dinner time is easy when I know exactly what we are making. One of our goals for this year was to sit down as a family more for dinner time and we've been doing a great job with that now that I'm meal planning!
Read How to Create a Meal Plan.
I like to change up recipes to make them my own and experiment with new flavors. We use olive oil in a lot of recipes. This Bacon Macaroni and Cheese Muffins recipe is a new recipe that we tried this week. It turned out to be delicious! I think the bacon on top is what gave it the extra kick that these muffins needed to be flavorful!
Keep reading for the recipe!
Bacon Macaroni and Cheese Muffins
Ingredients:
1 package of bacon
1 (16 oz.) box of elbow macaroni
1/4 cup butter
1/4 cup flour
1 cup of milk
3 cups of shredded cheese
1/2 tsp. pepper
1/2 tsp. salt
2 tbsp olive oil
bread crumbs
Directions:
Preheat oven to 375 degrees.
Line a muffin pan with muffin liners. Brush the inside of the liners with olive oil. Set aside.
Cook the bacon in a large frying pan until crisp. Allow to cool. Transfer cooked, crisp bacon over to a cutting board and chop up into small pieces. Set aside.
In a large saucepan, cook the macaroni according to the directions on the box. Once cooked, drain using a large colander and set aside.
Combine butter, flour, milk, shredded cheese, salt and pepper, and remaining olive oil in the large saucepan on low heat until melted, stirring often.
Once melted, pour the elbow macaroni into the mixture and stir well.
Add 1/2 of the bacon and stir. Set aside the other half.
Spoon the mixture into the muffin cups until full. (If you have any mixture left over, you can add that to a casserole dish and cook it as well – great for leftovers!)
Sprinkle remaining bacon and breadcrumbs on top.
Bake for 15-20 minutes or until golden brown.
Allow muffins to cool slightly in the muffin cups before serving.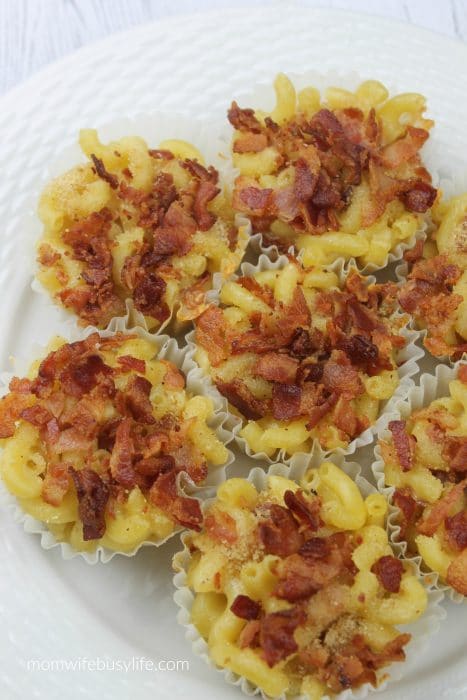 The Bacon Macaroni and Cheese Muffins are a perfect meal time solution for busy moms!
More great recipes:
Get access to all of my recipes here.