Sometimes we just have those days where we are looking for some delicious ground beef recipes that isn't your typical hamburger or ground beef skillet meal. Here's a list of recipes to help give you ideas on what to serve for your family.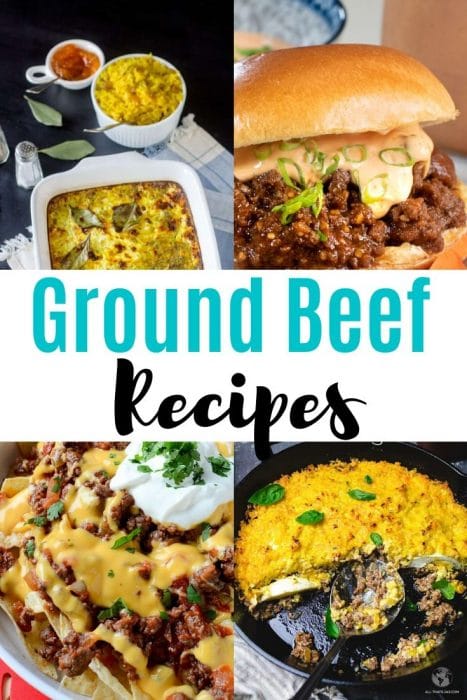 These days, you can do pretty much anything with ground beef to create something everyone will love. Yes, there is your usually boxed meals that you will find at the grocery store, but those will never compare to a delicious homemade meal!
If you are looking for a few new ground beef or hamburger recipes to add to your collection, these tasty dishes are a must-try. Who knows, you may just find something that will become a new regular meal during the week!
Ground Beef Recipes
This is one of our favorite and most popular recipes that we have shared here on our website. Serve this with a healthy side salad, your favorite bread or rolls, and iced tea!
Our Mexican Casserole recipe is another big hit here. If you love Mexican food, this casserole is a MUST to try and serve for your family! Top it with sour cream and enjoy!
Nachos are super easy to make for the family. Grab tortilla chips and top with ground beef and other fresh ingredients!
Here's another delicious Mexican recipe that you can try for dinner tonight! Serve ground beef and cheese in between tortillas and grill in a skillet until done!
We make chili on a weekly basis, especially during the fall months. We serve our chili with a pan of warm cornbread.
Perfect for busy weekdays, this one pan bobotie casserole is bursting with flavors. It's also slightly sweetened with an apricot jam and is easy to prepare.
If you're tired of traditional cheeseburgers, this cheeseburger pie has a flaky pie crust that's filled with ground beef and cheese to create a fun way to mix it up!
Not your typical lasagna, this recipe is made Dutch oven style so it's perfect for your camping trip or even a weeknight dinner over the fire.
You can't mention ground beef recipes without a delicious meatloaf! This meatloaf is loaded with flavor and is topped with a tasty ketchup and brown sugar mix.
A simple one pot recipe that makes for easy cleanup, this Instant Pot goulash is filled with real tomatoes, onions, and herbs to liven it up.
Cheesy Skillet Meatballs with Garlic Toast
Homemade meatballs are the star of this dish! Topped with tons of cheese and paired with a side of tasty garlic toast, this cheesy skillet meal is a must-try!
This Chilean style skillet meal is full of South American flavors that uses simple ingredients and is easy to make. It's the perfect comfort food!
Skillet Beef and Been Taco Casserole
Served on a bed of cheese, onions, peppers, this skillet beef and bean taco casserole is easy to make and will be a hit with the family.
Slow Cooker Sweet Potato Chili
Amazing chili peppers add just the right amount of heat for this chili. Unlike traditional chili though, this recipe contains sweet potatoes and other spices to bring it all together.
A quick and easy way to enjoy nachos, these nachos deluxe are filling enough to enjoy for lunch or dinner.
Not your tradition sloppy joes! Sweet, spicy and saucy, these Korean sloppy joes bring all of the good Asian flavors together in one dish!
Similar to Hamburger Helper, just a whole lot tastier! This is the perfect dish if you are looking for something cheap to feed a crowd.
Not your typical hamburger which is why it's included in this ground beef recipe list, this burger is topped with mac and cheese, pulled pork, onion, pickles and BBQ sauce for a unique taste!
Check out our list of 100+ Easy Recipes for Busy Moms: