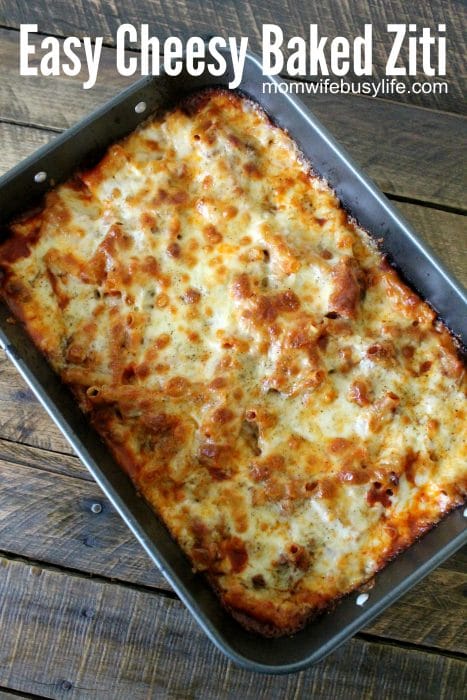 Are you a busy mom looking for a quick, easy, and delicious recipe that the whole family will enjoy? This Baked Ziti Pasta recipe is what you are looking for! I love the variety of pasta recipes out there and this is one to add to the list of favorites.
Baked Ziti has become a favorite of ours over the last few years! In fact, when I have visitors over or if I have to make meals for families in need, this is my go-to-recipe. The Easy Cheesy Baked Ziti recipe is so easy and perfect for busy moms out there if you need a dinner idea that the whole family will enjoy! If you follow this recipe, you'll be sure to have plenty to eat and most likely, a little leftover for the next night! Do you like to freeze meals? Divide this recipe in half and freeze half for another day.
I recommend serving hot, buttery rolls along with a side salad and sweet tea with this recipe! This recipe is perfect to make any time of year.
If you are looking for more pasta recipes to serve to your family, this video below can help. Keep reading below for more fun ways to use pasta as a family including how to color pasta!
13 Best Weeknight Pasta Dinner Ideas
Easy Cheesy Baked Ziti Recipe
Ingredients:
1 box of Ziti noodles
2 jars of spaghetti sauce
2.25 lbs. ground beef
1 onion
1 lb. mozzarella cheese
1 tbsp. olive oil
1 tsp. black pepper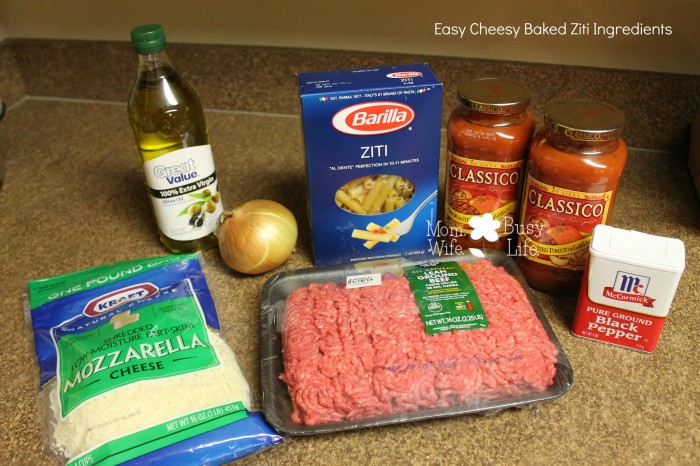 Directions:
Preheat oven to 400 degrees.
Brown ground beef in a large deep skillet. I use my favorite jumbo skillet when I make this recipe!
Add two jars of spaghetti sauce to the beef and stir well.
Simmer on low heat.
Cut onion into thin slices. In a small skillet, saute with olive oil until onions are caramelized.
Pour onions into the beef mixture and stir until mixed.
In a large pot, boil two quarts of water.
Add Ziti noodles and boil for 10-11 minutes, stirring well so the noodles don't stick together.
Drain.
Add desired amount of Ziti noodles to beef mixture and mix together well.
Scoop mixture into a 13 X 9 baking pan.
Sprinkle mozzarella cheese on top until covered.
Sprinkle with pepper for added flavor.
Bake for 20-30 minutes, or until cheese is slightly browned.
Let us know how your Baked Ziti turned out! I hope your family enjoys this recipe as much as we do!
Pasta noodles also make great craft ideas for kids! Here are our favorite videos below of how you can use pasta to make fun crafts with the kids.
How to Dye Pasta
How to Make Rainbow Pasta
3 Pasta Activities
More great recipes:
List of 50+ Dinner Ideas for Busy Moms
Get access to ALL recipes here!