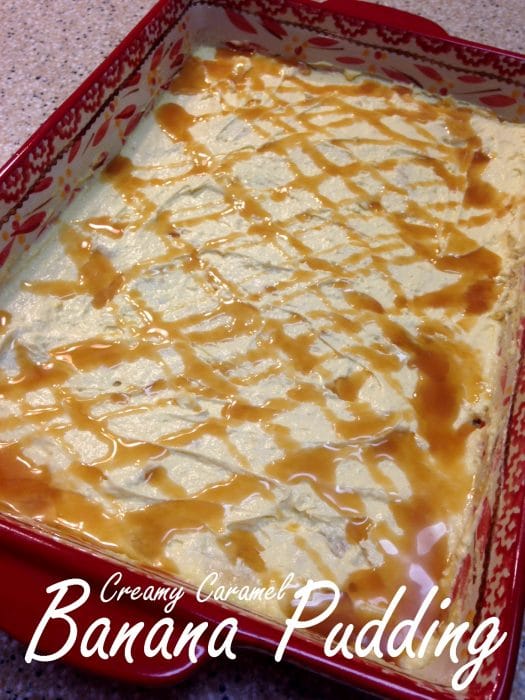 Banana Pudding with Caramel
Banana pudding is one of my all-time favorite desserts! There's just something about a spoonful of cool and creamy pudding with a sliver of banana.
I remember my mom making banana pudding for the family as we were growing up. I always tried to sneak the wafers before she placed them in the pudding. Once the pudding was chilled, I would scoop it by large spoonfuls. My favorite part of banana pudding recipes are where the wafers and pudding mix together. I enjoy the creamy and slightly crunchy texture. My mouth is watering just thinking about it!
This Banana Pudding with Caramel recipe is a recipe that all the guests will love! The kids are sure to enjoy this banana pudding recipe, too. Add caramel and this southern tradition is taken to an all new level of deliciousness!
In fact, this is a fun and easy recipe for the kids to help you make in the kitchen! Put your aprons on and create this delicious dessert to enjoy any time of the year.
Banana Pudding with Caramel
Ingredients:
Crust
1 box Nilla Wafers, crushed
1/4 c. brown sugar
3 tbs. sugar
1 stick melted butter
Filling
1 container (12 oz.) Cool Whip, thawed
1 boxes instant Jello vanilla pudding
1 container (8 oz.) sour cream
3 medium bananas, sliced
caramel
Directions:
In a glass mixing bowl, mix crushed wafers, brown sugar, sugar, and melted butter (Check out my favorite set of mixing bowls that I use for most of my recipes!)
Press mixture onto bottom of a 9X13 pan and bake for 10 minutes on 350
In a mixing bowl, combine Cool Whip, vanilla pudding, and sour cream
Cool crust completely and drizzle caramel on top
Place banana slices on top of crust
Spread cream filling mixture over the crust
Drizzle caramel on top
Refrigerate and chill.
*Optional Garnish: Chopped pecans
While you are here, check out these other easy banana recipes:
Find more easy recipes for busy moms!