Chocolate and peanut butter are two of my favorite ingredients in life. I love them mixed together. Try this Chocolate Peanut Butter Banana Smoothie! This tasty smoothie is a really nice treat when you are craving chocolate and peanut butter.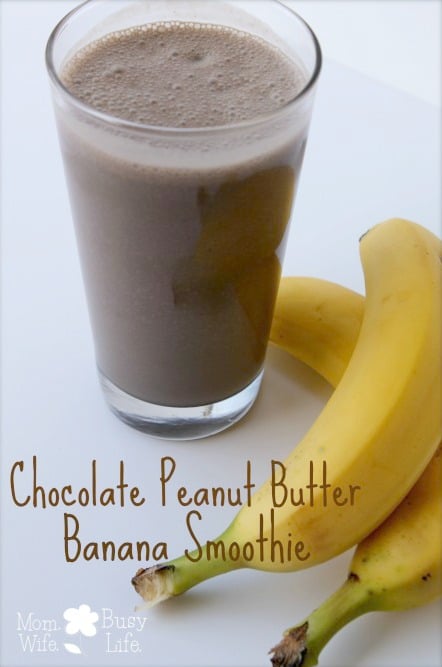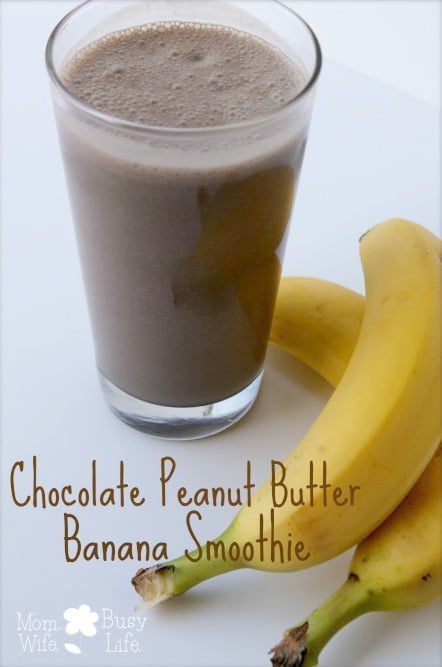 My goal for the year is to drink more smoothies! I'm on a mission to add more fresh fruits and vegetables in my diet, and one way to do this is by making smoothies. I like to experiment with different ingredients until I find a flavor that I love! Smoothies are easy to make and perfect for a busy mom like me that needs a quick meal or snack solution!
The best part about smoothies? You can get really creative with smoothie ingredients and experiment with several different types of fresh fruits, spices, flavors, and more! There's really no wrong way to make a smoothie.
Over time, you'll learn what ingredients work best and compliment each other and what ingredient combinations to avoid! For example, I was using milk in almost all of my smoothie recipes. Then I learned that milk doesn't always go well with everything I add to my smoothies. Sometimes simple water will do the trick.
Today I wanted to create something fun and fresh, with bananas, cocoa, and peanut butter. I love this combination and wanted to try it as a smoothie. It's super easy to make and super delicious!
Chocolate Peanut Butter Banana Smoothie
Ingredients:
1 banana (check out this banana slicer for easier slicing!)
1/2 cup milk or almond milk
1/3 cup nonfat Greek yogurt
1 tbsp peanut butter
1/2 tbsp dark cocoa
5 cubes of ice
1 tsp sweetener of choice (optional)
I've used my Magic Bullet Blender for years because it's easy for an on-the-go mom like me! I love that I can blend the smoothie right into the cup and take it with me! This blender is great when you want to make a smoothie for one person.
I also have a Vitamix Blender that I use when I want to make more than one smoothie serving. My husband and kids love smoothies, too, so I can use the Vitamix when making smoothies for the whole family!
Directions:
Pour the milk into the blender. *I always pour the liquid first, otherwise, the other ingredients can be hard to blend without enough liquid.
Add the yogurt, peanut butter, dark cocoa, and sweetener. Blend these ingredients together first.
Break up the banana and add it to the blender. Blend.
Add the ice to the blender.
Blend well and serve immediately!
This makes one serving. Double the recipe for two servings if you want to share this delicious smoothie with someone special!
Since you are here, check out our other popular smoothie recipes!
More Smoothie Recipes:
Not a chocolate fan? Do you want to skip the cocoa? Try our Peanut Butter Banana Smoothie Recipe instead! It uses honey as a sweetener option!
During the fall season, our Pumpkin Pie Smoothie Recipe is a big hit! This smoothie tastes like pumpkin pie without the crust! It's topped with delicious whipped cream and has a fun, fall flavor.
If you are looking for fruity smoothies, we have a variety of delicious tasting fruit smoothies to try!
Try our Strawberry Pineapple Smoothie! It's a summertime favorite and best enjoyed outdoors in the hot summer sun while relaxing by the pool!
If you love mango, you need to try our Strawberry Mango Smoothie! Mango is one of my favorite fruits to eat frozen straight out of the bag! (If you haven't tried plain, frozen, mango, I highly recommend it!) We buy several bags of it to enjoy as a healthy snack when we are craving a sweet treat.
Looking for a simple smoothie recipe? This Simple Strawberry Smoothie is great for strawberry lovers out there. Top this smoothie with cream for a "strawberries and cream" flavor!
Blueberries are such a great addition to smoothies and add plenty of fiber to smoothies. If you want a smoothie with a little kick to it, try this Blueberry Lemon Lime Smoothie.
If you are a banana fan and love this Chocolate Peanut Butter Banana Smoothie recipe, you may want to check out our other banana recipes, too!
Banana Recipes:
This Banana Bread is delicious hot and fresh out of the oven! Let the kids help out with this recipe. My kids love to mix the ingredients together and be a part of the baking process.
If you love banana pudding, this recipe is for you! This Creamy Caramel Banana Pudding is delicious. It's topped with Cool Whip with caramel drizzled over the top!
Looking for a recipe that has a texture like ice cream without all of the added sugar? Try our 3-Ingredient Chocolate Banana Ice Cream! This is a nice treat when you are craving something sweet but don't want to overdo it with added sugars.
These Frozen Chocolate Chip Banana Bites are another great option if you are looking for a healthier alternative to ice cream. This is another three ingredient recipe that the kids love to make and eat as a special sweet treat!
Do you like granola recipes? Try our Peanut Butter Chocolate Banana Bites recipe. This recipe uses a combination of oatmeal, chocolate chips, and banana to create a flavor that the kids are sure to love!
Our Banana Grahams recipe is the perfect after school treat to serve the kids. This is another great recipe to have the kids help out with! Made with pudding, graham crackers, and bananas, these fun snacks are a perfect snack option.
I hope you enjoyed this Chocolate Peanut Butter Banana Smoothie that I shared with you today! Add this to your recipe collection and be sure to pin this to Pinterest.
Share with us below what your favorite smoothie is and what you like to add to your smoothies! We love tips from our readers! Leave us a comment below.