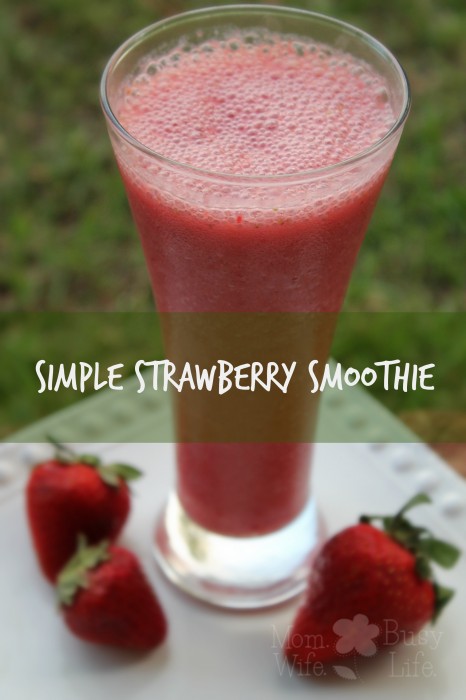 Need a quick and easy smoothie idea? Try this Simple Strawberry Smoothie recipe!
Summer is coming up and there's nothing better than enjoying ice cold fresh fruit smoothies during the hot summer months. I love sipping on my fresh smoothies while sitting on my porch and watching my girls play. I love everything about strawberries including the health benefits, fragrant smell, and excellent taste! When I was pregnant with both of my girls, I could eat entire pints of strawberries alone!
Smoothies don't have to be complicated. Sometimes the best smoothies are the ones that require the least amount of ingredients! If you are busy and need a healthy breakfast idea, this smoothie is perfect for the on-the-go mom!
Here's a simple strawberry smoothie for you to love this summer — so fresh and so delicious!
Simple Strawberry Smoothie
Check out these blenders for making smoothies!
Ingredients: 
8-12 Strawberries
1 Cup Unsweetened Almond Milk
6 Cubes of ice
Optional: Sweetener of choice



Directions: 
Wash the strawberries and slice the strawberries in half.
Add the strawberries, almond milk,  ice, and sweetener together in a blender and blend well.
Pour into your favorite glass and enjoy!
More Smoothie Recipes: