This Strawberries and Cream Dessert Recipe is a light and fluffy treat to enjoy this summer!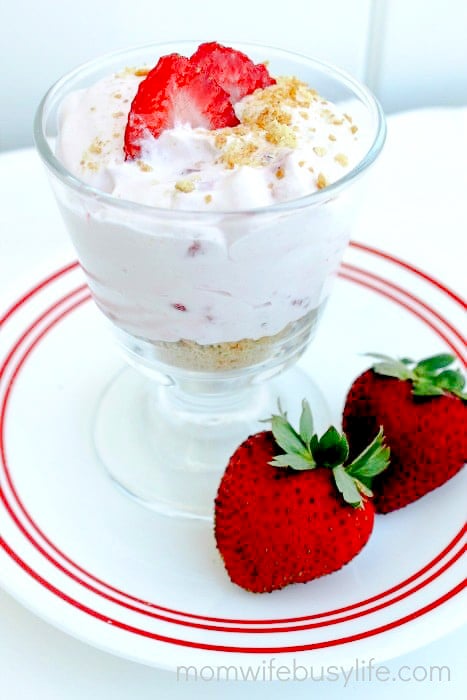 This summer has been filled with fun! We've enjoyed days at the pool and my husband has cooked up a lot of tasty treats on the grill in the backyard. We've also enjoyed several sweet treats this summer that are delicious and satisfying. One of our latest creations involved yogurt and whipped cream to create a light and fluffy dessert!
This summer, mix your favorite yogurt flavor with whipped cream to create a light and fluffy snack! We created this delicious sweet summer snack with only four ingredients!
Strawberries and Cream Dessert Recipe
Ingredients:
1 1/2 cups of strawberries (sliced and cut up into small pieces)
2 (6oz) containers of strawberry yogurt
2 cups of whipped cream
Optional: graham cracker crumbs
Directions:
Mix all ingredients together in a mixing bowl.
Set in the refrigerator and chill for 2-3 hours.
Sprinkle graham cracker crumbs in the bottom of a dish and on the top for a crunchier snack!
Serve and enjoy! Serves 4-6.
More strawberry recipes:
Strawberry and Blueberry Pudding Cups
Red, White, and Blue Berry Jello Cups
Chocolate Covered Strawberry Pops
>> Click here to sign up for my email list and get access to my FREE printable library!