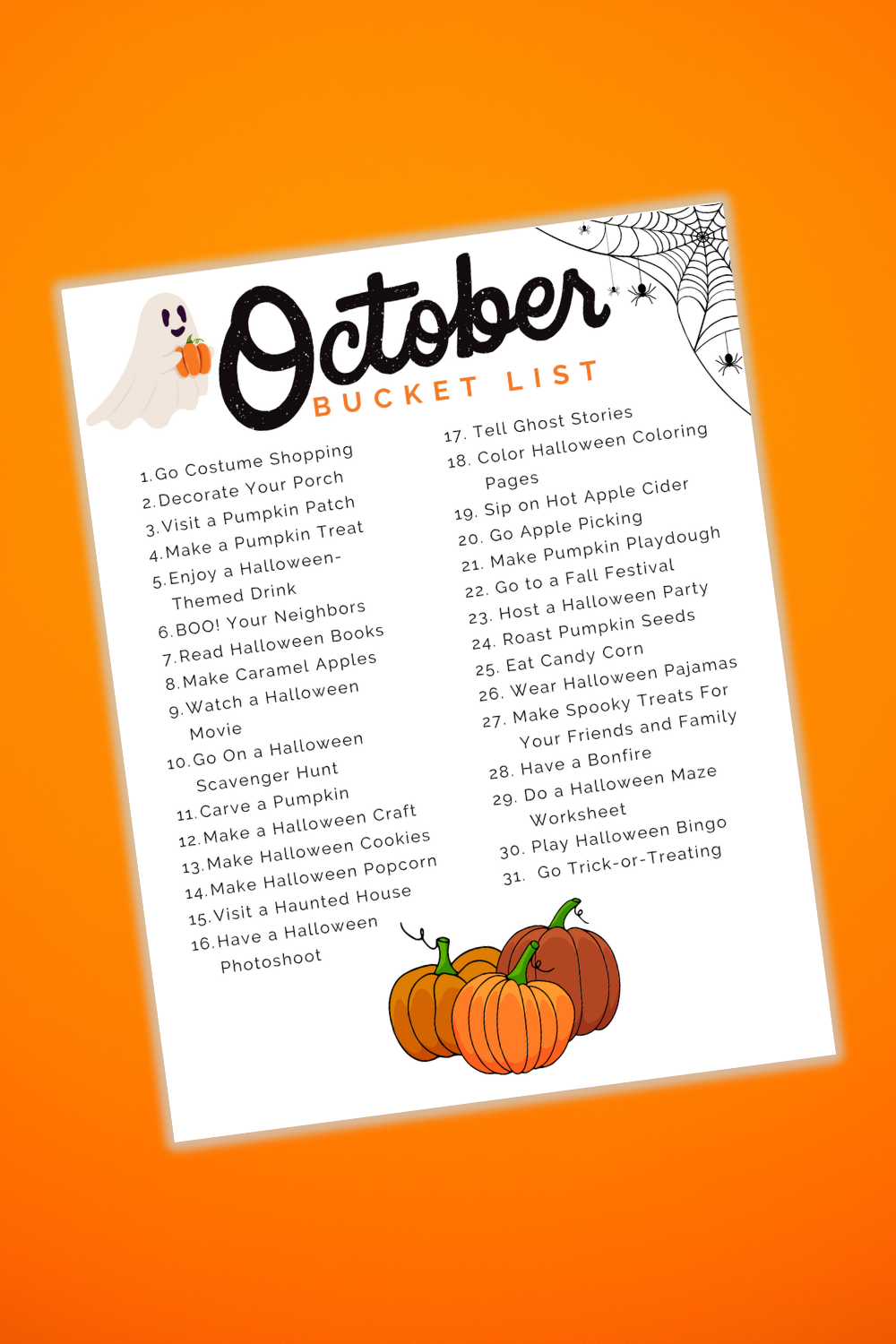 October, with its colorful foliage, cozy sweaters, and pumpkin-spiced everything, is a month full of festive spirit.
But with so much going on – school events, work obligations, and the anticipation of the holiday season – many families feel overwhelmed.
That's where the beauty of an October bucket list comes into play, especially for bustling moms and families.
FREE Printable Fall Bucket List
Bucket List Ideas for Families
Discovering the Magic of an October Bucket List
An October bucket list is more than just a checklist. It's an invitation to create unforgettable moments with your loved ones.
It's about pausing amidst the hectic schedules and intentionally soaking in the beauty of the season.
For families, particularly those led by incredibly busy moms, the bucket list can serve as a guide to making the most of every October day without the stress of excessive planning.
A Roadmap to Festive Fun
Imagine not having to brainstorm ideas to keep the kids entertained during weekends. Your October bucket list holds a plethora of activities, tailor-made for the season.
Free October Bucket List Printable: Your New Best Friend
To all the super moms reading this, here's a game-changer for you: this free October Bucket List printable.
I've taken the essence of the season and encapsulated it into an easy-to-use checklist. No more scrambling for ideas or last-minute plans.
Everything you need is right there, ready to be explored.
You can find the free printable October bucket list at the bottom of this post!
Here are the activities included on the printable:
October Bucket List Activities
Go Costume Shopping: Let imaginations flourish as you pick out that perfect ensemble. Or make your own! Check out 10 Halloween Costume Ideas You can Make Yourself!
Decorate Your Porch: Make your home an embodiment of fall festivities. Add these milk jug pumpkins or milk jug ghosts to your decor!
Visit a Pumpkin Patch: A must-do; nothing compares to the joy of choosing your very own pumpkin.
Make a Pumpkin Treat: Dive into a culinary adventure, from pumpkin bread to pumpkin muffins.
Enjoy a Halloween Themed Drink: Whether it's a kid-friendly punch or a spiced latte, toast to October.
Boo Your Neighbors: A playful tradition to spread joy (and maybe a tiny fright!). Get your FREE You've Been Boo'ed Pack!
Read Halloween Books: Wind down with tales of witches, goblins, and friendly monsters.
Make Caramel Apples: A delightful blend of tartness and sweet caramel.
Watch a Halloween Movie: Snuggle up for some family-friendly movies or timeless classics. Play Halloween Movie Trivia, too!
Go on a Halloween Scavenger Hunt: A delightful adventure that promises treats and triumphs.
Carve a Pumpkin: Turn that pumpkin into a Jack-o'-lantern masterpiece. Here are printable pumpkin stencils to use this year.
Make a Halloween Craft: Channel the spirit of the holiday into some DIY fun. I have several great pumpkin craft ideas, candy corn craft ideas, or ghost craft ideas that you can enjoy!
Make Halloween Cookies: From spooky shapes to delicious flavors, a baking delight! Check out these Halloween Cookie Decorating Kits.
Make Halloween Popcorn: A perfect blend of sweet, salty, and spooky.
Visit a Haunted House: Brave the thrills and chills of a local attraction.
Have a Halloween Photo Shoot: Capture the festive feels with fun props and costumes.
Tell Ghost Stories: Gather around and delve into tales that tingle the spine.
Color Halloween Coloring Pages: A therapeutic and festive family activity. Here are some Halloween Coloring Pages to enjoy this year.
Sip on Hot Apple Cider: Embrace the essence of fall in a mug or Hot Apple Cinnamon Spice Tea.
Go Apple Picking: An outdoor adventure yielding delicious results. Here's a fun apple tree pine cone craft you can make.
Make Pumpkin Playdough: Creative, squishy fun with a festive twist. You can make pumpkin slime, too!
Go to a Fall Festival: Celebrate the season's harvest and traditions.
Host a Halloween Party: From decorations to dance-offs, let the spooktacular fun begin!
Roast Pumpkin Seeds: A crunchy, healthy snack post pumpkin carving.
Eat Candy Corn: A divisive treat, but oh-so-October. Try this Candy Corn Guessing Game!
Wear Halloween Pajamas: Grab the family a set of matching Halloween pajamas. Cozy up in style.
Make Spooky Treats for Friends and Family: Share the love (and the scares).
Have a Bonfire: Gather around, roast marshmallows, and share stories.
Do a Halloween Maze Worksheet: Challenge the mind with some themed puzzles.
Play Halloween Bingo: Eyes down for a full haunt! Here's a free printable game!
Go Trick or Treating: The much-awaited night of costumes, candies, and camaraderie.
Displaying Your Bucket List
A great way to keep the excitement alive is by displaying your bucket list prominently.
Consider placing it on your refrigerator door, on a bulletin board in your living room, or even framing it as a decorative piece.
Every time you accomplish an activity, let the kids take pride in crossing it off or placing a sticker next to it.
It serves as both a motivator and a delightful way to track your family's October adventures.
Conclusion
October is a treasure trove of festivities, but it's easy to get lost in the hustle and bustle of everyday life.
An October bucket list is the compass that directs busy moms and families to the heart of the season, ensuring that every day is laden with joy, bonding, and unforgettable moments.
So, embrace the magic, print out that free October Bucket List, and embark on a journey filled with autumnal delights.
Here's to a spook-tacular October! 🎃
FREE Printable October Bucket List
Frequently Asked Questions
What is the October Bucket List?
An October Bucket List is a curated list of activities and experiences designed to help families and individuals make the most of the festive October season. It covers a range of activities, from pumpkin carving to attending fall festivals, ensuring there's something for everyone to enjoy.
Is the October Bucket List really free?
The printable version of the bucket list is available for free. We believe in helping families create unforgettable memories without any additional cost. Just add your email address in the field above and your free bucket list will be sent to your email.
How do I access and print the bucket list?
Just click on the designated link or button for the printable version, and it will open in a new tab or window. From there, you can choose to download or directly print the list.
Can I customize the bucket list for my family's preferences?
The provided list is a standard one, aiming to appeal to a broad audience. While the downloadable version isn't editable, you can certainly use it as inspiration and create a custom list based on your family's preferences.
Is the bucket list suitable for all ages?
The bucket list has been curated to include activities that can be enjoyed by all age groups. Whether you have toddlers, teenagers, or are just kids at heart, there's something for everyone.
Do I need to complete all activities on the list?
Not at all! The bucket list is meant to serve as a guide. Feel free to pick and choose activities based on your interest and convenience. It's all about having fun and creating memories.
What if I don't celebrate Halloween?
While the list contains Halloween-themed activities, it also includes general fall activities such as apple picking, sipping hot apple cider, and visiting fall festivals. You can choose the activities that resonate with your personal preferences.
Can I share the printable bucket list with others?
We encourage you to share the list with friends and family so they can also enjoy a festive October.
Are there any safety concerns with some of the activities, like visiting a haunted house or going trick-or-treating?
Safety is paramount. Always choose haunted houses or events that are age-appropriate and ensure adult supervision for younger children. When trick-or-treating, it's advisable to go in groups, stay in familiar neighborhoods, and inspect all treats before consumption.
I've downloaded the bucket list, but it's not printing properly. What should I do?
Ensure that your printer settings are set to the correct paper size and orientation. If problems persist, try downloading the file again or check for any updates or issues with your printer software.
We hope these FAQs provide clarity and assist you in making the most of your October Bucket List experience. Enjoy the season!